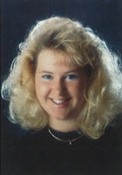 Carrie F. Wilhelm, age 39, passed away unexpectedly on Tuesday, December 22, 2009, at her mother's home. She was born on August 7, 1970, in Madison, the daughter of Ronald and Sara Wilhelm-Rhiel. Carrie's life was her children. Carrie is survived by her three children, Torrie, age 13; Corrie, age 12; and Tarin Thomas, age 10. She is also survived by her brother, Kurt Wilhelm and his wife, Elisa Salinas; niece and nephew, Ashley and Keegan Wilhelm; two aunts, Dr. Mary Rhiel and her husband, Patrick Clary, MD; Susan Given and her husband, Robert; an uncle, Dr. Steven Rhiel and his wife, Lynda and their families; the father of her children, Toren Thomas; and many other relatives and friends. She was proceded in death by her father, Ronald Wilhelm; grandparents; and cousin, Kim Given.
A memorial service will be held at JOYCE-RYAN FUNERAL HOME, 5701 Odana Road, on Wednesday, January 6, 2010, at 6 p.m., with Pastor Craig Robertson, New Crossing Church, officiating. Visitation is from 4 p.m., until the time of service. In lieu of flowers, memorials to the family, for the children, are appreciated. A special thank you to the members of New Crossing Church.

"Mommy, we love you. You will be in our hearts forever."